Our free classes are a big part of who we are. Bringing people in on "the secret" is our thing. These classes are based on an informal lecture style, with attendees gathered around our central workspace. Feel free to bring your bike. After class, throw your bike up in the stand to discuss with our mechanics further
Free Basic Maintenance Classes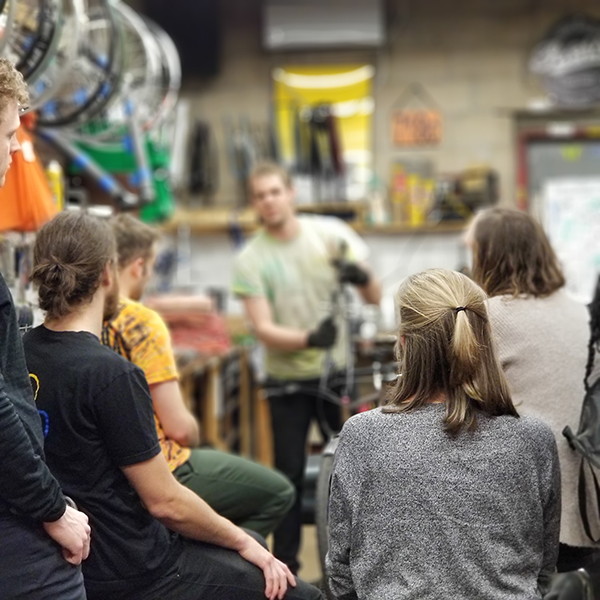 Class 01: "Basic Maintenance and Flat Fixes" This class covers basic points of do-it-yourself maintenance to get you self-sufficient with you bike. In addition, this class can serve as a gateway to learning more about these great machines.
Class 02: "Brakes and Their Adjustments" This is the class to take if you want to get rid of that annoying rubbing sound. Braking systems, while plentiful, mainly follow the same few principals in terms of function and maintenance.
Class 03: "Gears and Derailleurs" Often a source of mystery and stress from cyclists, this class serves to show that these shifting systems are easily worked with and essentially the same cast of characters for many decades.
Class 04: "Bearing Adjustments and Wheel Truing" Slightly more advanced, this class is a great finale for our Basic Maintenance Series of classes. This class covers bearing adjustments (hubs, bottom brackets and hubs), as well as wheel truing.
Free Wheel Building Class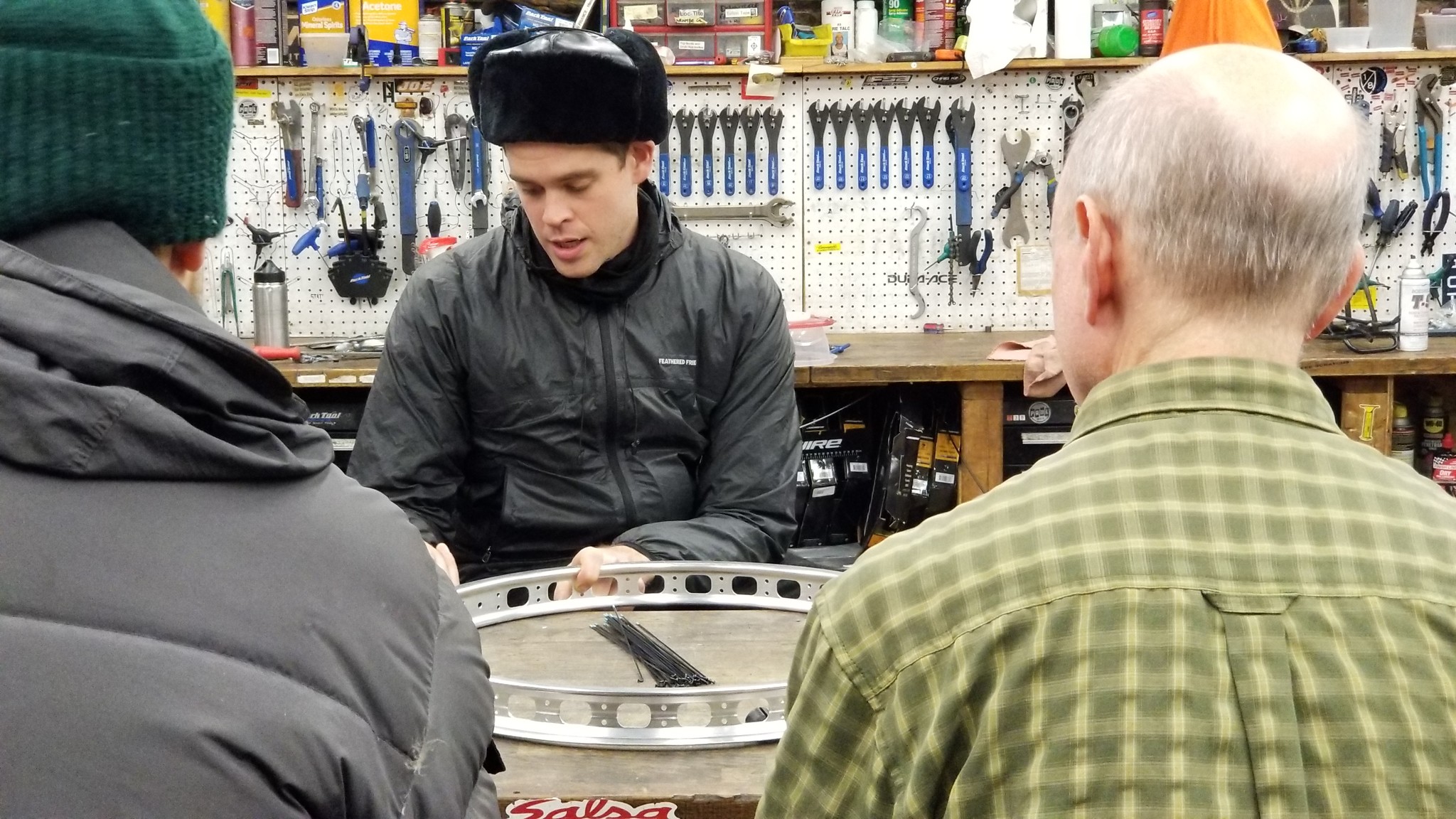 Participants will build a wheel during the class, and are able to come back to the shop if they don't finish by the end of class. Participants can buy components from 718 (at a 10% discount). Email us at info@718c.com. Tools are not required for class, but are included in the discount in case you want to take your new hobby further.
Alternatively, attendees can bring their own wheel components (rim, hub, spokes). If bringing your own spokes, please have them cut to length (at 718 or elsewhere) prior to arriving at class. 718 charges 25 cents/spoke for this service.
Free Women's Bike Maintenance Class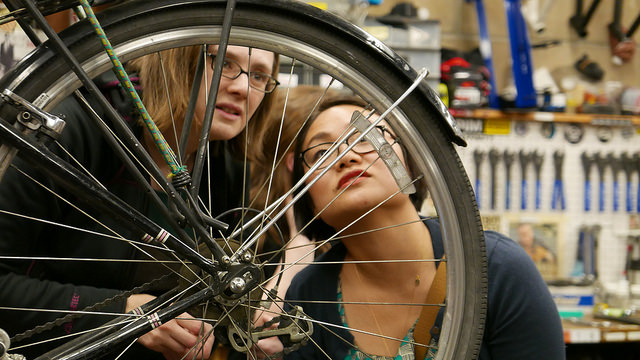 This monthly class at 718 Cyclery is an open forum for women and gnc folks. There will be a topic planned as well as a chance to troubleshoot and discuss any maintenance questions. Plan to get your hands on bikes for a deeper understanding of bicycle mechanics. Those of all skill levels are encouraged to come whether to share knowledge and/or questions!
Examples of topics to be discussed: drive train maintenance, tubes and tires: flat fix tricks and techniques (at home and on the road), bike builds, swapping components, dos and don'ts of lubrication, truing wheels, brakes, safety checks, headsets, bottom brackets, hubs, etc!
About the Instructors:
Where bicycles are concerned, Meredith's heart is in the liberating power of the riding, and working on, of all types of bikes for all types of people, on any surface and in any weather. She teaches project-based mathematics at a public high school in Manhattan for recent immigrants, where she also facilitates an after-school bike mechanics and cycling program.